Having a financial plan is a lot like having a travel plan — it identifies where you're going, how and when you'll get there, how much it'll cost, and things do along the way. Like planning a vacation, your financial plan can be loosely structured or highly detailed based on your individual needs. But having no plan at all could leave you stranded in the middle of nowhere.
Before starting ask yourself some basic questions.
What kind of lifestyle do you have? How much will that allow you to save?

What kind of Lifestyle you want or need to maintain? How much will you need to spend?

When do you want or need to stop contributing and start using savings?

How much investment risk do you want or need to take?

Do you want to leave behind a legacy?
It helps to think in terms of both want and need. This may allow some goals to lean toward the "want" side, while others can be closer to the "need" side. For example, you may choose to work and save for a longer period of time so you can lower your savings rate to take nicer vacations now, or you might plan on spending less in the future so that you can lower your investment risk now.
Planning can help you see both sides of the coin.
In summary, the financial plan addresses the following important questions:
What are your long-term financial goals?

Where are you standing today in financial terms and where will you likely be in the future.

What do you need to do to achieve your financial goals?
This process of establishing goals, gathering and assessing personal financial data and coming up with specific recommendations designed to help you achieve your financial goals is the heart of a financial plan.
No one can predict the future but one can certainly be better prepared for it. A strong financial plan will make sure that you are financially prepared to deal with unexpected events and stormy seas of the market. Even basic things like buying a car, taking a personal loan or funding your children's education, will be taken care of.
One need not be very rich to have a financial plan. No matter how much you earn and at what age, a financial plan is important to make your life easier. As our financial situation influences almost every aspect of our lives, a regular financial plan can help give us peace of mind and protect us from unforeseen, unfavorable situations.
Ensure that your financial health is sound at every stage of life backed by a sound financial plan.
The scope of 360 Degree financial planning at TRP:
Investment Planning
Assistance in preparing an investment policy statement.

Identification of time horizon for investments.

Recommendation of an asset allocation to match risk, time horizon, and other parameters
Goal Based Planning
Defining your short, medium & long term goals.

Ascertain the current cost of investment.

Determining the future cost of your goals and investment amount.

Choosing the right assets class.

Consider healthcare and long-term care in retirement.
Tax Planning
Tax minimization and deferral strategies, including tax efficient investments and contributions.
Estate Planning
Review of current wills, trusts, powers of attorney, and related documents. Recommendation of new or updated documents.

Proper titling of assets.

Discuss desired gifting strategies.
Family Protection
Analyze current insurance policies and your medical policies.

Recommend types and amounts of coverage to cover financial losses due to unforeseen happenings.
Debt reduction/Advisory
Every one of us uses different sort of Debt (Home Loan, Personal Loan, Credit Card, Overdrafts, Vehicle loan, Business loan, Mortgages etc) to fund our short and long term goals. We offer you solutions to synchronies repayments and solutions to manage the quantum of Debt.
Second opinion services
This package provides a thorough analysis of your Investment Portfolio, Asset Allocation, short- and long-term objectives and risk review.

It is designed both for those looking to evaluate the advice of their current investment advisors, as well as those interested in a third-party evaluation of their unadvised portfolios.

Financial Counseling
You might have a question on your current investments or say an exit strategy from expensive insurance policy taken a couple of years ago. You can trust us as an advisor, who can answer your queries and suggest you better alternatives at all times and on all financial matters.

We at TRP follow a simple six step process for 360 degree comprehensive financial planning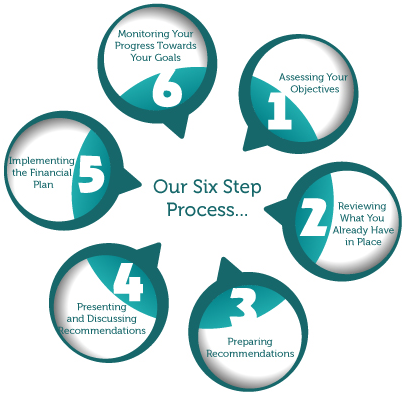 Financial Plan Packages at TRP
We can help you create specific, measurable financial plans tailored to your needs.
Age group: 20s and 30's

• You need help signing up for a retirement plan and picking investments

• You are unsure of your life insurance needs

• You are deciding if it's the right time to buy a house

• Starting college savings for your kids – how to save? How much is enough?

Age Group: 30s to 50s

• Your career is maturing and you are wondering if you are saving enough

• You have multiple investment accounts but no cohesive plan

• You are juggling many financial goals at the same time and need help prioritizing cash flow

Age: 50+

• You are wondering if you can afford to retire and maintain your lifestyle

• You need help determining when to start pensions

• Your investments need to shift to more income producing plans but you are unsure how

Rs 4000

Rs 5000

Rs 4000